Hola Bloggin' chicas,

It's me Zira. I'm looking to set the record straight. I'd rather that you not have seen the picture of me with the beer in the last post. I thought what happened in Vegas, stayed in Vegas. I'm not really a lush. Really. Can't a girl just have a little fun? Besides I was on vacation.

You know, I'm just a simple little monkey. I loved my beautiful Noro sweater. It kept me warm this winter and I did look so smokin' caliente. Now, I've been reduced to this...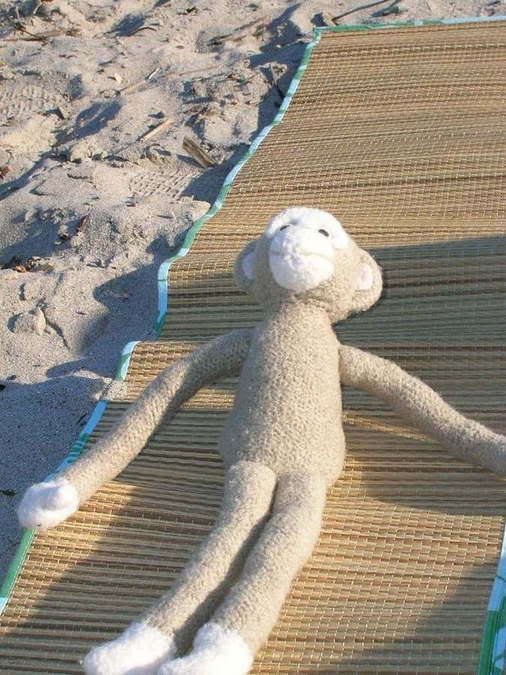 All I was trying to do was catch some sun on the beach in Santa Barbara and that crazy Indigomuse took naked photos of me. Even monkeys have their dignity. But I have fixed her and fixed her good. In addition to taking over her blog, I am holding her beloved Nikon hostage. She has lots of great photos on here that I'd bet she'd love to show you. Like pictures from her California vacation. Pictures of some recent FOs like her mohair Kyoto. Pictures from the local Spin and Knit In. But you will not be seeing these pictures until justice has been served. In return for the camera, I demand some knitted spring clothing. If you chicas wanna see some pictures, you need to post some pattern ideas in the comments. And no frumpy, dumpy clothes either. I'm a fashion monkey who needs her fix. You don't have to design the pattern, just give us some ideas for yarns and styles and I'll force Indigomuse to do the rest. The winner gets their own felted monkey finger puppet and other various and sundry goodies. The winning idea will be posted on Monday, April 25th. You have until midnight Thursday, April 21st to give it your best shot. Or the camera gets it. Comprende?