Well, I get the hint. I get it loud and clear. You aren't interested in reading my blog unless I post pictures. I understand, I'm the same way as I'm a very visual person. Well you wanted pictures and pictures you shall have. I borrowed a camera - because I aim to please (and to be honest, I'm a comment Ho and miss hearing from you guys). Some of the pictures aren't the clearest because I don't know how to use all of the setting on this camera.

I'm pleased to present to you, the beautiful Zira...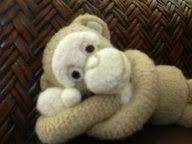 Zira loves the camera and aspires to be a model some day. She also loves bananas...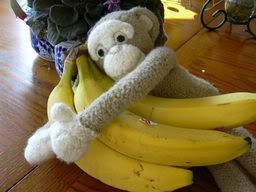 Especially eating them!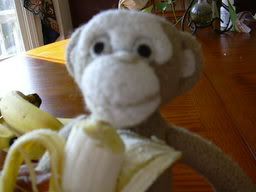 I catch her climbing on Arwen quite frequently...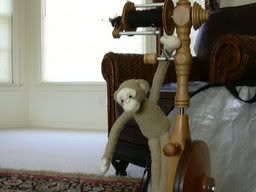 She assures me that she's not playing but just trying to sneek a peek of what I'm spinning. Today, its merino and alpaca.



Zira wanted to show off the hat that I made her even though it doesn't fit very well(she's so sweet to wear it anyway). I'm working on a custom fit sweater this weekend.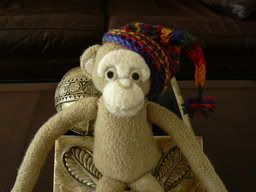 Zira tells me that she has a secret that she'll share with you all very, very soon. I wonder what that monkey is up to.

Zira began as this bunch of unfelted parts.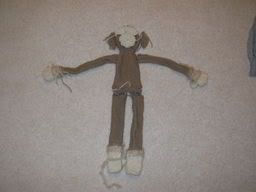 After felting her, I had to snip and restitch her hands and feet. It was a big mistake knitting that mohair at the tops of both. I wanted fluffy cuffs and ended up with Popeye arms and calves. I used my mitten and sock skills to make her hands and feet. I was so glad to use my newfound skills. I stitched her muzzle on and needle felted her face and ears. In my haste to finish her, I forgot to make a tail. I'll have to work on that over the weekend. Overall, I'm pleased with the results and only need to make minor changes to the pattern. I did some stash busting to make her so her colors aren't very monkey-like. I hope to work on a buddy for her soon. I "heart" Zira!

Enough monkey business. For those who've inquired (thanks for asking), my laptop is about 80% back to normal. It has crashed a couple of times since I got it back so I hesitate saying that its "fixed." However, its a huge improvement over the other computer so I'm not going to complain (plus, I get the feeling that everyone is tired of hearing me whine). I'll have a regular knitting/spinning post on Monday. I've been a busy little bee. Take care...