I feel like I've slipped back into a pair of comfy sweat pants after wearing business clothes all day. It's good to be back in the functioning computer world after nearly a one month absence. This is the first Monday where I got back into my routine - wake up early and with coffee in hand, catch up on my favorite blog reads and then begin my real job.

Today was somewhat different considering Thing 2 (Thing 1 plotted with his best friend to stay at his house because they knew that they'd be out of school today) is home from school with me due to almost 10 inches of snow. Holy Shitake Mushrooms were we surprised to wake up to so much snow. And I thought that spring was almost here. I guess this is the last blast before the warm weather creeps in. I'm surrounded by snow fanatics who are loving this stuff. I, on the other hand, have been dreaming about palm trees and white sandy beaches and buff cabana boys.

Yes, there's been some knitting and spinning over the last couple of weeks. Yesterday, Zira was in a shot with the bobbin of merino/alpaca that I finished recently. Other than that, I haven't spun much. Here's a shot of the sheepy tote that I donated to the Fat Tuesday auction (the one that brought in $75)...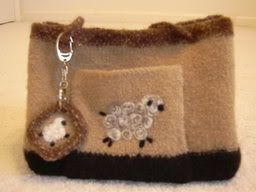 And here are some before and after shots of the felted strawberries...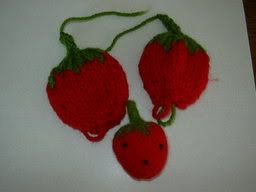 A felted flower pin that's a RAOK for a special friend and the Corgigora flower...



And my favorite so far was this beauty - drumroll please...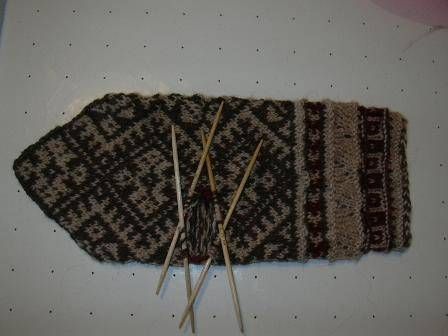 Yes, my friends, that's a Latvian mitten from the Folk Knitting in Estonia book. I worked on it over the long holiday weekend and must say that I'm in love with stranded knitting. My tension needs help but I don't think that I did too bad considering I don't have anyone to watch (I'm a visual learner). I'm sure that I'll finish these right as Winter is over. I'll at least have something to look forward to wearing next season.

I had a busy Strawberry Festival planning weekend so I didn't get much knitting in. I was able to whip out a sweater for Zira using the top down pattern from Feb. 25th of the Knitting-A-Day calendar. The math was great and in a little over an hour I had a mini-sweater that fit perfect. The little critter in the picture with Zira is Maieka the new guinea pig.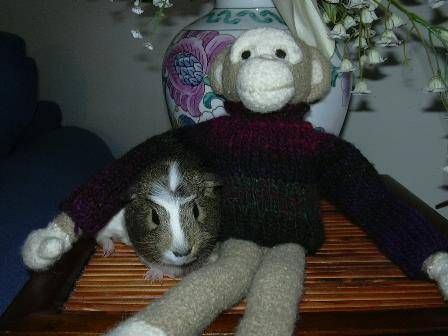 I used some leftover bits of Noro Kureyon (keep in mind I don't like this yarn) to do some stash bustin'. It's not the most feminine looking sweater but it kept her warm while she was playing in the snow on the deck today.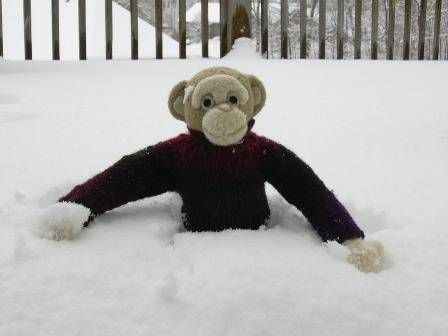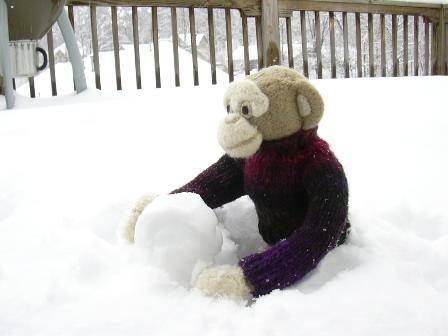 Just so you know, Zira's legs are 8 inches long and the snow was up to her waist by 10 am. Yikes!

And for the Corgi fans, I have a couple of pictures of Mavis playing in the snow (she LOVES snow and will roll in it for hours).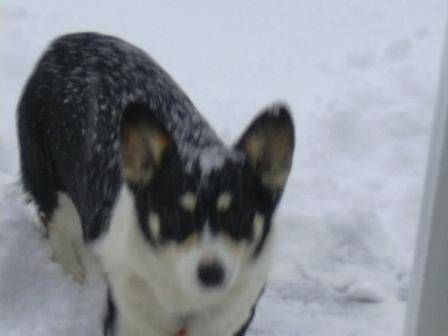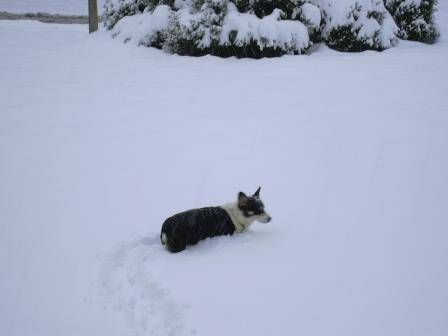 Anyone on photo overload yet? I'm so glad that I could finally add some color to my blog. Enjoy the snow day for those of you on the East Coast in this storm and more from Zira tomorrow.