Let the voting begin. Now through May 31st, you can vote (check out the left sidebar) for your favorite MS&W Zira picture. The winner will be announced on June 1st. To see the pictures, check out the Cheeky Little Monkey post. Zira's resting up in MD for her world tour which will launch in June as part of my one year blogiversary. Stay tuned for more information and keep placing those pins on the world map.

Just a titch of knitting at La casita de Muse. I was able to whip up a few cheeky little monkeys that are now waiting to be felted. I'm testing out a new smaller size too and some various colors just for fun. If they turn out okay, I'll post photos next week.

On the fleece front, I experimented with KA dyeing some of the Corriedale with great results. I'm in a pink and green phase right now and am thinking that a felted pink and green tote from my handspun would be fun. Below are some transition photos of the dyed locks (which were carded and pulled through a diz), transformed into little roulades (at least that's what I call them. Sounds better than rolags), spun and plyed into variagated yarn and finally knit into a 4" x 6" swatch.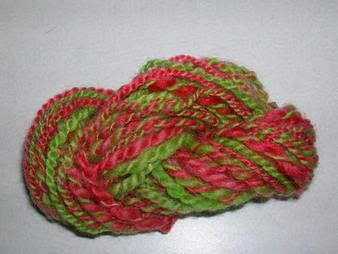 While the process takes a while, I. AM. LOVING. IT! After reading the most recent Spin-Off, I plan to do some solar dyeing over the summer. So many experiments, so little time.

So when will I have time to work on all of these projects? Wellllll, I got word that my grant funded position will probably be cut to less than 10 hours a week for the summer. After some mini panic attacks and freak out sessions, my wonderfully supportive DH (hereafter referred to as King of the Things) and I decided that its not the end of the world to take it easy for the summer. Thing 1 and 2 are will be out of school and we have nothing major (knock on wood) on the horizon. No major home improvement projects, family commitments, work commitments - nada. So I've decided to take the plunge and delve into teaching knitting and maybe some spinning over the summer from my home. If it works out and if my job is put on funding hold in the fall, I might have myself established. The worst that can happen is I get a real job. Many, many thanks to my wonderful cyberknit buds Kelly and Heaz for talking some sense into me :) I've been a pitiful little muse as of late.

Edited to add*** Has anyone taught knitting or other fiber classes? In their home? Any pitfalls that I should be aware of? Suggestions? Anyone out there? Bueller? Bueller? Someone please respond. I'm starting to wonder if this blog is working or not.

And, I'm also going to make myself a DIY project. I'm going to work hard on getting healthy - eat better, exercise more, etc. especially since work won't be a barrier. King of the Things is looking forward to lots of great cookin' and grillin' and afternoons by the pool. I'm keeping my eyes, fingers and toes crossed that it all works out but then again I firmly believe that everything happens for a reason.

Have a relaxing Memorial Day holiday. I plan to hang out on the beach sipping gurly drinks and knitting (and maybe spinning) my life away. I'll meet you all here next week!