I've felt the luck of the Irish all week. There's been much to celebrate. Spring arrives in just two days, the days are getting longer, leaving for Cali and Las Vegas in less than a week and DH and I had our 20th dating anniversary yesterday. Here we are at prom (which was actually two years after we started dating).


(Sorry about the quality of the picture. Its a picture of a picture because I don't have a scanner). Damn we were skinny. I can't believe that we've been together for that long. We've actually known each other for 25 years (since we were ten) but we didn't start dating until high school. Our first date was at Chi Chis (it wasn't actually a date because he didn't ask me out until we finished dinner but we count it as that moment in time that changed our lives) so to commemorate the occasion, I made fried ice cream for dessert. Yum! I also cast on a cabled sweater vest for DH as his present. I'm using my own handspun Romney - my first major project made with my handspun wool.




It doesn't look much yet but I think it will look really nice. It's hard for me to get a consistent gauge with the handspun though I'm learning to like the slubs that give it character.

I also received a wonderful and unexpected RAOK on St. Patty's day from Heaz.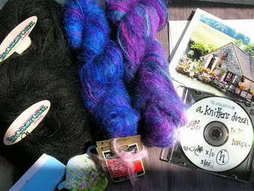 Some yummy tea and a tea bag rest that looks like Monet's Garden, a totally 80's mix CD, a gorgeous notecard by Mustard and *gasp* Black Ironstone Herb Garden yarn. The two purplish Ironstone skeins that have languished in my stash are dying to be knit with my latest additions. Heaz's gift was the high note of an already spectacular day. Thanks chickie!

BTW, all of these pictures are courtesy of my new camera. I got another Nikon (sometimes I'm a horrible creature of habit) but this one is the 4600. Its even smaller than the last, has internal memory which will come in handy while we're on vacation and wonderful clarity. I don't even have it set on the highest setting and the detail is incredible. I'm working on a felted cozy for her. I *heart* my new techno toy.

On the spinning front, I'm working on more Romney for DH's sweater.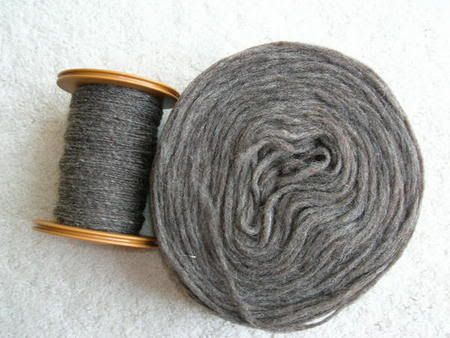 I couldn't find regular roving in the same color so I was stuck with buying pencil roving. Repeat after me - spinning pencil roving is not as much fun as spinning roving. However, it goes fast and I need to finish more yarn before I run out (which will be soon).

Not much else happening, I rescued Rogue from the UFO pile and am mustering up the energy to frog the sleeves and start over on smaller needles. I'm ready for a spring knit to take with me on the plane ride to CA. Anyone have any suggestions? A good spring tote or top would be nice. Or something out of all of my new mohair. I'm drawing a blank.

To start your weekend off right, I leave you with Zira in the snow earlier this week (I hope that it was the last snow of the season) and a shot of the Guinea girls. See you next week.