I'm so glad that spring has sprung around here. I finally saw some flowers peeking their little heads above the ground, the grass is getting green, buds are on the trees, little birdies are chirping everywhere there's lots o' sunshine. Just what the doctor ordered to chase my winter blues away.

I had a great weekend of knitting and spinning and not too much of anything else. I spun up and plied several skeins of roving for DH's cabled vest. I even figured out how to use a wine bottle and a lampshade to make center pull balls of yarn (I'm holding out on buying a ball and skein winder. I'd rather use the money to buy fiber).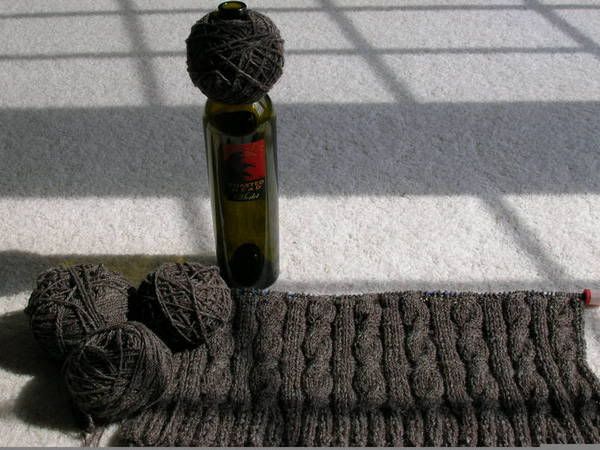 The vest is moving along slowly but surely. I have a few more inches before I have to start decreases for the arm holes. I really don't want to take this monster with me on the plane because I think I'll get bored with it so if I haven't finished the front before I leave, its headed for a trip to UFO island.

As you may (or may not) recall, my first Nikon met its untimely demise after I'd had it for only 6 months. A friend of mine accidentally dropped it, jamming the lens inside the body of the camera. In an effort to keep my new baby safe and injury-free, I decided to whipped up a little felted camera cozy. Check it out.

Before:



After: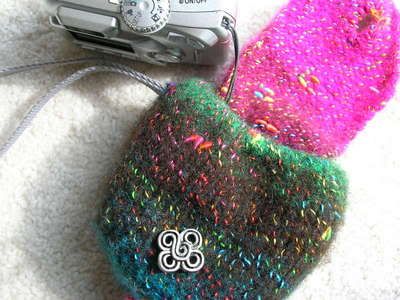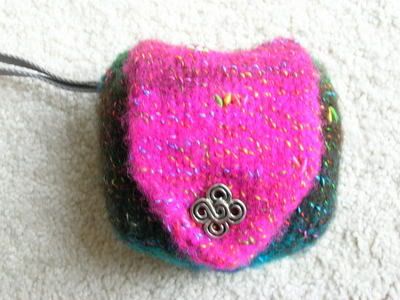 It's pretty much a tube that I made into a double knit pouch. Half of it was Noro Kujaku and the other half is pink Cascade 220. The Kujaku didn't felt nearly as much as I expected it to (yes, I even made a test swatch) and the Cascade 220 felted beautifully so it didn't turn out like I wanted it to. However, after I stopped pouting, I worked with it and am thrilled with the resulting product. I made a little buttonhole on the side for the strap to pop through (so I don't lose the cozy while I'm taking pictures) and finished it with one of the Celtic buttons that I bought this fall from Knit Happens. I also added a super thick hairband on the inside to elasticize the top to keep the camera from accidentally falling out. My new baby is now as snug as a bug in a rug.

Since I was itching to knit something with the Ironstone yarn that Heaz got me, I decided to play with modifying the Kyoto pattern from Knitty.com based on a couple of others that I've had in mind. I cast on and hope to finish the front soon. I'll post pictures if its worthy. However, I keep telling myself that its okay to frog it if I'm not happy with the results. Can you tell that I'm avoiding Rogue?

In non-knitting news, Suppa Club met last night. Our hostess, Sandy hired a chef who cooked the most incredible meal. Fresh tapenade with crostini, goat cheese breaded with panko, wild salmon (that Sandy had flown in from Alaska) with a balsamic reduction, portabella mushroom risotto and asparagus and for dessert, yummy bananas foster. Here's everyone munching happily...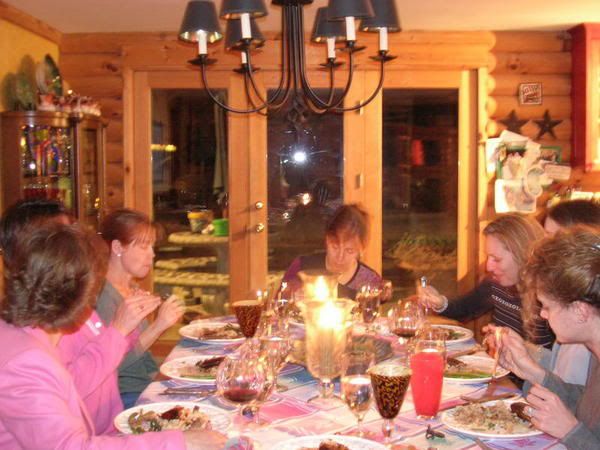 Life IS good!